In our last post, we told you to call 211 and talk to a friendly Health Care navigator. This friendly person will be happy to explain what deductible, co-payment, and premium mean. But we are also friendly people, so we are going to give it a go!
But seriously call them. Get your shit figured out. December 15th deadline and all!
Soooo… Basics
If you are thinking about choosing a health insurance plan through the exchange plans, two pieces of information are consistently presented to you: premium and deductible. Money Under 30 has some great simple definitions for all this terminology:
Premium: The monthly fee for your insurance
Deductible: How much you must kick in for care first, before your insurer pays anything
Often plans with higher premiums have lower deductibles and vice versa. Those with steady incomes but low savings may find a plan with higher monthly fees but a lower threshold before insurance kicks in to be appropriate for them. A plan with lower premiums and a higher deductible may be appropriate for a person whose monthly income is tight, but who has a robust savings account.
IDK It's Complicated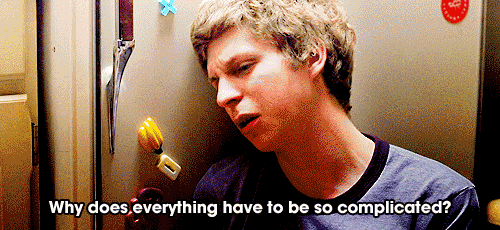 Now only certain medical costs are eligible to go towards your deductible. Routine costs like going for a doctor's visit and getting a prescription filled are called co-pays.
Co-pay: Your cost for routine services to which your deductible does not apply
Once your eligible medical care costs exceeds your deductible than your insurance pays for some, but not necessarily all, of your care. This amount you pay is called your coinsurance.
Coinsurance: The percentage you must pay for care after you've met your deductible
And that percentage continues until you spend your out-of-pocket maximum amount, after which the insurance pays for everything.
Out-of-pocket maximum: The absolute max you'll pay annually
So, again, figuring out what is right for you depends on how much you can pay and when. If you require frequent visits to the doctors then co-pays are an important cost to keep in mind. Likewise, co-insurance and the out-of-pocket maximum complicate the deductible amount.
Tortured Metaphor Time!
Think of health insurance as an expensive roller coaster that is way less fun.
With this roller coaster, you are always spending money. Your premium is what you pay to get into the park, the co-pay is what you pay to get on the coaster. You keep paying until you climb the first steep hill, that's when you hit your deductible. After your reach the top, your ride is then determined by the amount of co-insurance you have until your reach the out-of-pocket maximum.
Money Under 30 has a much more in depth guide to these terms. Additionally, you can get local help by doing what we already told you.  Call 211. Just tell them you want to see a Health Care navigator and they'll set you up with an appointment with someone who can help you choose a plan.
Do it now.